Over the last 18 months, the health and social care has faced huge challenges. Constant changes, goalposts moving, new legislation in the Coronavirus Act and much of the sector mobilised or redeployed to deliver the COVID19 response. Organisations rewriting workplace policies, training our teams in how to don and doff their PPE and navigating the physical and psychological move to remote working. Technological challenges, digital exclusion and ever-growing waiting lists across the board began to bite at overstretched services. The last 18 months has taken its toll on everyone, when people needed services the most, services closed their doors or were difficult to access and navigate.
For us, every single one of our services was affected by the pandemic and the demand for support increased tenfold at a time when we couldn't physically get into our communities. Rights and freedoms were restricted, vital care and support was cancelled or postponed, and news broke of unlawful practices, most notably the unlawful implementation of blanket DNACPR decisions. People needed us now more than ever before.
Even though our team faced their own personal challenges, they continued to show up and put their heart and souls into delivering critical services. They came up with creative ways to reach and support those who needed us, they continued business as usual, despite the challenges they faced. But because not much is known about advocacy outside of the health and social care sector, in my eyes, they ultimately did not get the credit they deserved. They were the ironically silent heroes of the pandemic, upholding rights, fighting for freedoms and helping people access the care and treatment they needed.
Indeed, throughout the outbreak, little credit has been given to the amazing Advocates across the country. Not much was said about how organisations like ours continued to support our teams, how we ensured their rights were upheld, how we ensured they had the support they needed, how we ensured their safety when out and about seeing people face to face during a pandemic, and how we ensured they stayed mentally well. The world shut down, advocates turned up.
Valuing Voices
Last year's Valuing Voices report detailed the results of a nationwide survey of 450 Advocates in the UK. Advocacy organisations, including ourselves, worked in partnership with the NDTi to run the survey and launch the report. The report showed us that Advocates were seeing more unsettling cases – at a time when safeguarding referrals dropped by 45% - and were helping more and more people to reclaim the most basic of rights. We know that our Advocates were extremely frustrated and concerned at their increasing workloads and the things they were up against.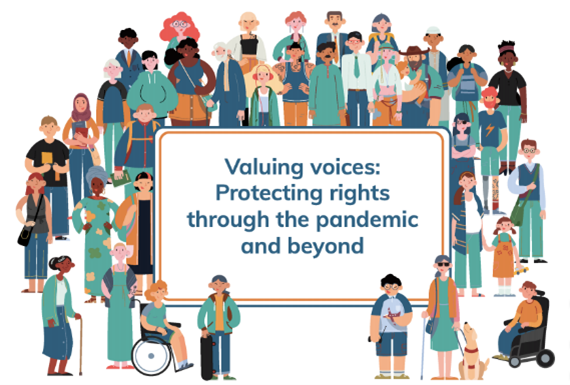 In the survey, half of the UK's Advocates reported that care providers had stopped all visits and almost half (47%) reported that people were confined to their rooms. Three quarters of Advocates said that peoples' human rights were not fully upheld, and only 7% of advocates reported being able to fully access the living places of the people they supported. 48% reported not being able to meet with people at all.
All this has led to a negative mental effect on the country's Advocates, and even, many of them returning to roles in social care, or finding alternative paths to take. The toll was huge. Yet they didn't receive claps on doorsteps or praise from the media.
Supporting Advocates
We like to think of ourselves as experts in workplace wellbeing, we have the awards to prove it, and a plethora of people who have used our services who can attest to the five-star rating of our workplace mental health training. We recently came second out of 114 national organisations in Mind Charity's Workplace Wellbeing index for our own internal policies and procedures.
In our workplace survey, we found that during the pandemic, over half of our Advocates (56%) accessed our mental health support tools. As a supportive workplace, it is comforting to know that 75% of our team feel confident disclosing their mental health at work and that a large majority are using them. I have to say, I wasn't surprised at all by the number of people in our team needing additional support during this time. We know as an organisation, how important it is to support our Advocates, so that they are in a better position to support the people in our communities. A whopping 98% of our team said they were provided with sufficient guidance and resources of how to stay well during the pandemic from us.
So what did we do? We upped our avenues for free mental health support, giving them multiple options to turn to, we helped ease them into the new working world with an action packed training and development calendar, we introduced new wellbeing initiatives such as weekly wellbeing hours, virtual team huddles and wellbeing days, we ensured we continued to facilitate an open and accepting organisation – albeit remotely, our dedicated wellbeing team went above and beyond to deliver useful tools and resources, and our managerial team continued with the All Fine Helpline, a dedicated number for Advocates to ring if they had any issues or concerns, to offload, knowing they will always be taken seriously and to be listened to.
Not only that, but we went to great lengths to ensure they stayed safe at work, issuing weekly guidance and updates from our dedicated COVID response team, training them extensively in how to use PPE correctly and we ensured that we took their lead on how they felt about their safety.
Moving On from the Pandemic
We know that the job of an Advocate is only going to get busier. We await with some uncertainty to see what the winter will bring and nervously accept that we must learn to co-exist with a virus that stopped the world in its tracks. You can already see the sector bracing itself for another potential outbreak as the winter months creep in, that's where we need to be ready, ready to respond to the needs of our communities- no matter how that looks.
What we do know, is that the demand for health, social care and advocacy will only increase. The COVID response, although necessary, set our sector back in so many ways. Many services now have significant waiting lists, emergency funding is drying up and we once again enter the competitive arena of bidding for work to ensure sustainability and continuation of services for our beneficiaries. Not only do our Advocates have to think about the people they support and their increasing workload, they also live with the constant worry that their job is never entirely safe.
Thankfully, it's not all doom and gloom, I'm confident that as a sector we can all pull together. By working together and remembering why we got into health and social care in the first place, we can face all these upcoming challenges head on. We can learn, adapt and grow together, improving outcomes for those who need us. For the people that rely on our support, failure is not an option.
As Advocacy organisations, we must get better at demonstrating the impact our services have in our communities, and the outcomes the people we work with achieve. We must work together to demystify this word 'Advocacy' that's often met with confused faces and associated with legal services, so that the sector can get the recognition it deserves. And we must get better at praising our Advocates on the ground, who are supporting people and bringing change in people's lives, side by side, shoulder to shoulder, a partner, a supporter, someone who is truly there for the person.
So, this Advocacy Awareness Week, I'm hoping to raise awareness of the amazing work carried out by all the Advocates nationally, a silent and vital cog of the health and social care sector. Let them be recognised for playing such an essential part over the last 18 months. We have learnt a lot along the way, suffered losses and have been filled with grief, and through it all we will come back stronger, as individuals, organisations, and a sector- with many lessons learnt. Here's to the next 18 months- we are coming back stronger.