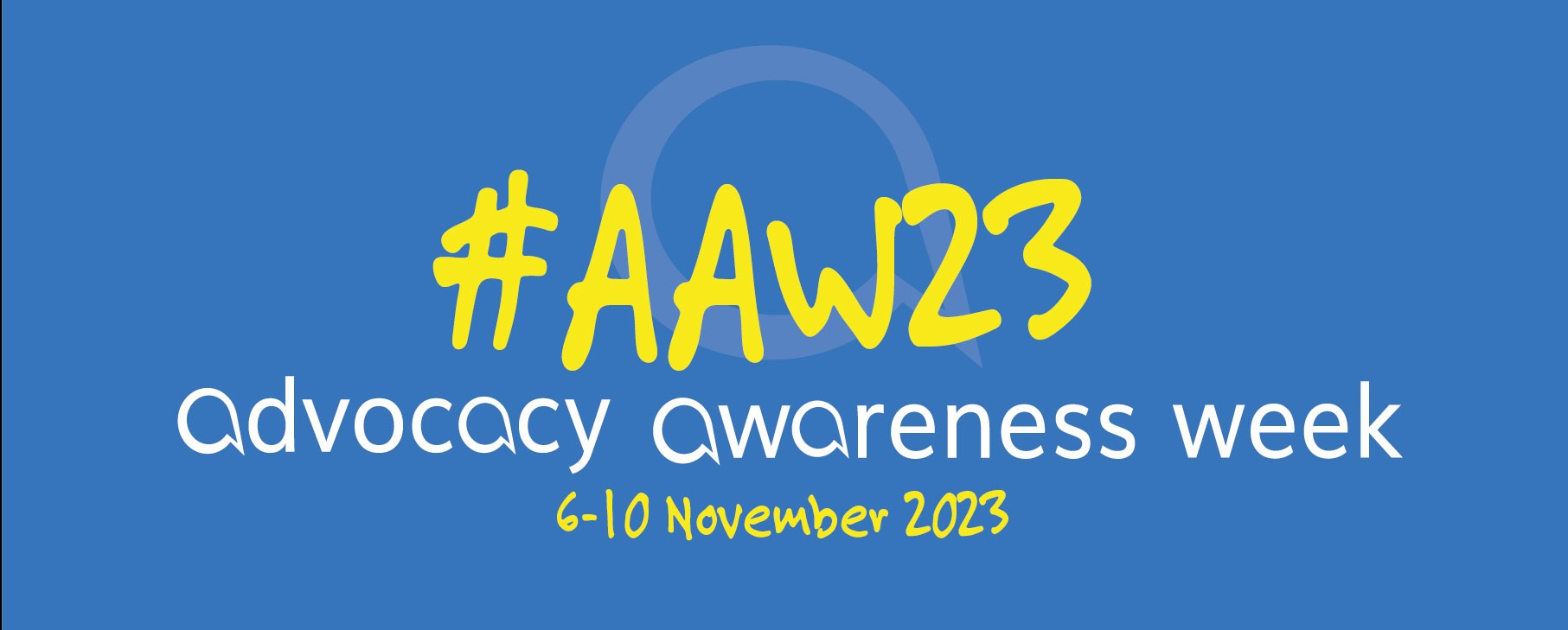 Independent advocacy is a powerful mechanism of support that enables people to say what they want, secure their rights, pursue their interests and obtain the services they need. Advocacy providers and advocates work in partnership with the people they support and take their side, promoting inclusion, equality and social justice.
Independent advocacy is an essential component of local services and support for people who are at risk of exclusion. Having access to advocacy support will be important to many people in order to help them say what they want, secure their rights, represent their interests and obtain services they need – in relation to the health, social care, education systems and beyond.
The provision of independent advocacy, in all its forms is based on a set of underpinning principles and values. These are set out in The Advocacy Charter which was developed by Action for Advocacy and published in July 2002. This was then updated in 2014 and again in 2018 by NDTi.
Advocates help people speak up for themselves.
Advocates help people understand their rights and entitlements and help people realise their rights.
Advocates help people understand and navigate health and social care systems.
Advocates help people explore their options and make their own decisions.
Advocates ensure that people are listened to and included.
Advocates don't share information without the person saying so.
Advocates adjust the ways they work with each person so that the advocacy works for them and is led by them.
Advocates ensure that other professionals understand what the person needs in order take part in decisions and meetings.
Advocates are independent of other services.
Advocates help keep people safe.

Advocates do these things and so many more!
Yet we hear all the time, from people, families, services and especially from advocates and advocacy providers that advocacy isn't known about enough and isn't well enough understood. When we ask people what the barriers to accessing advocacy are, we will invariably hear that people aren't aware of the service, or that professionals aren't making the appropriate referrals.
Similarly, when we ask about challenges in delivery effective advocacy, we hear that there are times when advocates are unable to do their jobs properly because other people don't fully understand their role. This impacts people who access advocacy in many ways.
A recent example an advocate told me about shows how a lack of understanding of the advocacy role and how it benefits people impacted:
"Jordan asked me to support him to think about and get ready for his ward round. There were a number of things he wanted to bring up with his doctors and care team, including some issues which related to his rights. We met to prepare and Jordan had asked me to support him in the meeting and to speak up for him if he was finding it difficult to get his points across or if he wasn't getting answers to his questions. He was feeling nervous about the meeting and wanted that independent and confidential support that only an advocate can provide. When I arrived at the hospital to meet Jordan on the day of his meeting, I found out the hospital had changed the date and time of Jordan's meeting without letting him or me know. The meeting had happened the day before. No one had thought to check with Jordan if he wanted his advocate with him."
Independent Advocacy and the legislation, frameworks, and process around it can be complex and difficult to navigate. The names of different types of advocacy and the sheer number of these can be extremely confusing; terms such as formal, natural, peer, family, IMHA, IMCA, non-instructed, voluntary, or statutory often accompany the word 'advocacy' and can cause more confusion than clarity. Working your way through different eligibility criteria can be a bit like navigating a maze! Yet people have legal rights to advocacy in certain situations and professionals have statutory duties to refer people to advocacy and to facilitate advocacy support. (You can find out a bit more about people's rights to access different types of advocacy here)
Our recent review of advocacy for people with a learning disability and autistic people found that a key issue impacting access to advocacy that was effective and timely related to advocacy being misunderstood. Having a good understanding of the advocacy role, its benefits and boundaries, is a core part of many professionals' roles, but isn't always an area where people are confident or competent. We need more health and social care staff to improve their knowledge of advocacy and people's rights to access it.
This year's Advocacy Awareness Week campaign is all about going back to basics and creating the clarity that's needed and helping as many people as possible understand what advocacy is, what advocates do and don't do as well as exploring why advocacy is important and how it helps people.
We will be sharing a range of exciting content during the week and there are blogs, videos, articles and more alongside daily social media posts from NDTi and from colleagues across the advocacy community, all of which bust some myths about advocacy and help us all understand advocacy a bit better.
You can follow and join in the conversation on social media using the hashtags #AAW23 and #WhatIsAdvocacy
If you have questions or what to understand more, do ask, during this week and beyond. You can reach out to your local advocacy organisations to find out how they might be able to support you, your friends and family.